Calibrations
EMC RF Calibration Services
The basic of quality with calibration
The extent to which a product or service meets the customer requirements, we can define as quality. To be able to determine whether a product meets the customers expectations, measurements must be performed. Reducible results are therefore important to ensure that these measurements are reliable. Therefore there is only one way to ensure reducible results: Using a calibrated measuring instruments. Queality systems like ISO 17025 and ISO 9000-serie requirements so that measuring instruments are regularly calibrated, in other words, be included in a calibration system.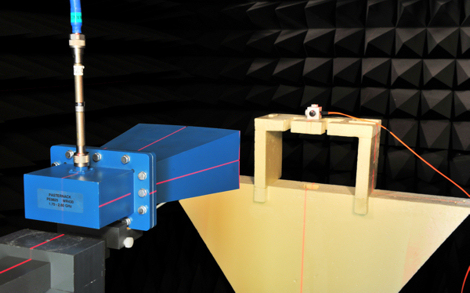 The system of calibration
The periodic calibration of measuring instruments is not the only thing which a properly functioning calibration system includes. To make optimal management functioning of your valuable equipment possible, DARE!! Calibrations offers a full range of services. Click here for more information about the calibration of your DC/LF instruments. Click here for more information about the calibration of your EMC/RF instruments.
Facilities
We have our own ultra modern laboratory which is located in Woerden, where we can perform all calibrations. We also have a complete shielded, temperature and humidity controlled room, and anechoic spaces. DARE!! Calibrations also has an Open Area Test Site, as well as an electromagnetic field sensor calibration space.
International recogntion
The Dutch Council for Accreditation has accredited DARE!! Calibrations ISO 17025 under number K063 and therefore DARE!! Calibrations is THE laboratory if you would like an accredited calibration. The Council of Accreditation is member of the International Laboratory Accreditation Cooperation (ILAC) and member of the European Accreditation (EA). Results of accredited calibrations will be internationally recognized by IEC, IAF and ILAC.
Traceability
The reference standards used by DARE!! Calibrations are periodically calibrated by the national standards laboratory, which guarantees a direct traceability to the (inter)national standards.
Testimonials
DARE!! Calibrations presents all calibration results in an extensive report. The report includes the measured values, graphs and measurement uncertaincy. The latter is in conformity with document EA-4/02 (rev. 00. December 1999) 'Expressions of the Uncertaincy of Measurements in Calibration' (including supplement 1).
Quality service
It is important that customers are informed in time about due dates of their measuring instruments. Therefore we timely call for the calibration of your measuring instruments. A calibration at DARE!! doesn't take long (a calibration process usually takes 5 working days). We also care once more for safety and assured transport of your precious measure instruments with our own transport-service. If there is interest for several instruments to calibrate, we offer interesting conditions on the basis of a calibration agreement (this includes a bulk discount).
D.A.R.E!! Calibrations
Vijzelmolenlaan 7
3447 GX Woerden - The Netherlands
Tel.: +31 348 43 18 07
Fax.: +31 348 42 11 98
e-mail: calibrations@dare.nl