EMC and RF Calibrations
Under accredited testing and calibrating
DARE!! Calibrations is the market-leader when it comes to EMC and high-frequency calibrations. As one of the few laboratories in Europe, DARE!! Calibrations is able to calibrate and/or test EMC measurement equipment like e-field sensors, antennas, measurement receivers and ESD guns of several manufactures under accredation.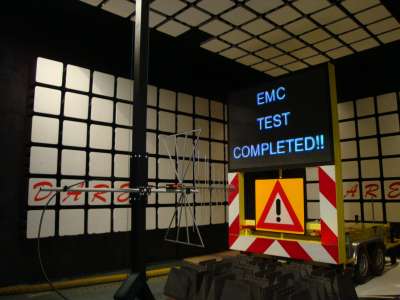 EMC-Calibrations
A wide spectrum of specific test and measurement equipment is used to determine the emission and immunity of electrical and electronic devices, this phenomenon is also called Electronic Compatibility (EMC). Based on measurement results which are gathered with these EMC measure equipment products are also being approved or rejected. Therefore it is essential to guarantee the reproducibility and traceability of these measurement results. These depend mainly on the quality of the used measuring instruments. The only way to guarantee the quality and traceability is by periodically calibrating these measuring instruments and by applying procedures and international standards which are optimized for specific applications of the device.
Antennas
Calibrations of antennas can be performed according to the SAE-ARP 958 method(i.a. for military purposes), as well as the 'Reflective Ground Plane' method(ANSI C63.5) witch is used a lot with antennas for CE mark(EMC standard)
Procedures
To stay updated on possible changes in in calibration procedures, DARE!! calibrations closely follows the international developments regarding to EMC. The calibration procedures are optimally suited for the use of measuring instruments according to the standards applied in the implementation of the EMC-directive (2004/104/EC). These are generally the basic standards of the IEC1000-4/EN 61000-4-serie.
Technical Competence
DARE!! Calibrations delivered complete calibrations under accreditation for i.a.:
RF amplifiers
RF generators
Absorbing clamps
EFT / Burst generators
ESD generators
Surge Generators
LISN's
Clamps
Spectrum analyzers, including CISPR 16 detectors
EMI measuring receivers
Antennas (SAE / ANSI C63.5)
E-/H-field sensors
RF power meters
Attenuators
Shielded rooms (MRI or 'Cage of Faraday')
Anechoïc rooms (NSA or Site VSWR)
D.A.R.E!! Calibrations
Vijzelmolenlaan 7
3447 GX Woerden - The Netherlands
Tel.: +31 348 43 18 07
Fax.: +31 348 42 11 98
e-mail: calibrations@dare.nl